EMT-VIVO NEX (PD1806, 10.0) Factory Reset for latest version
Type:

Case Tutorials

Views:

1539

Created time:

2020/08/04
#Screenlock
#Unlock
#Qualcomm
#Android
#VIVO
Case: VIVO NEX (PD1806, 10.0) Screen lock
Demand: Factory Reset

Operation process:
1.Go to Service Tab
2.Press "Factory Reset"
3.Enter Qualcomm EDL/9008 mode connect USB Cable (install drivers)
4.Waiting for the operation to complete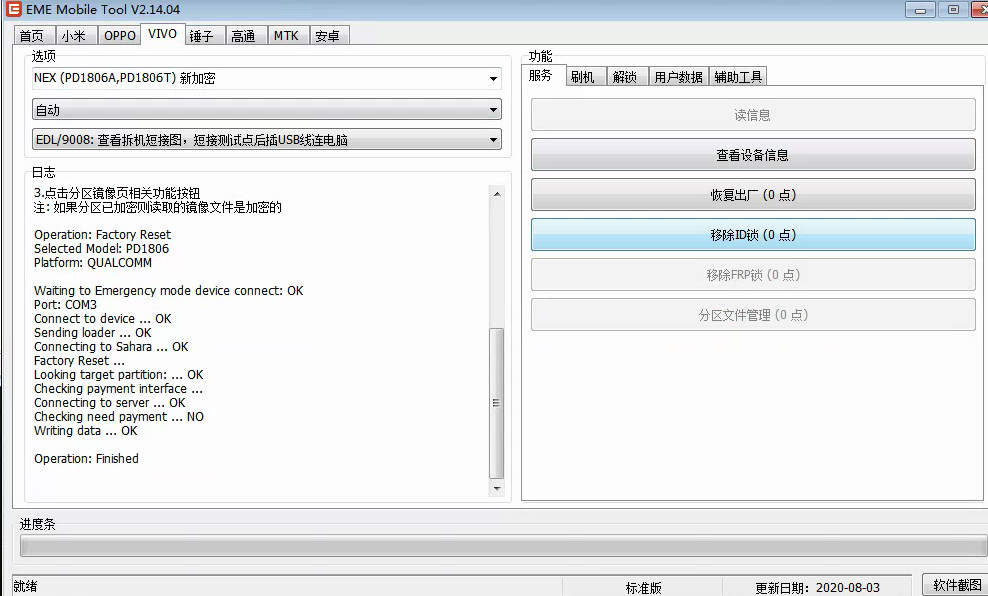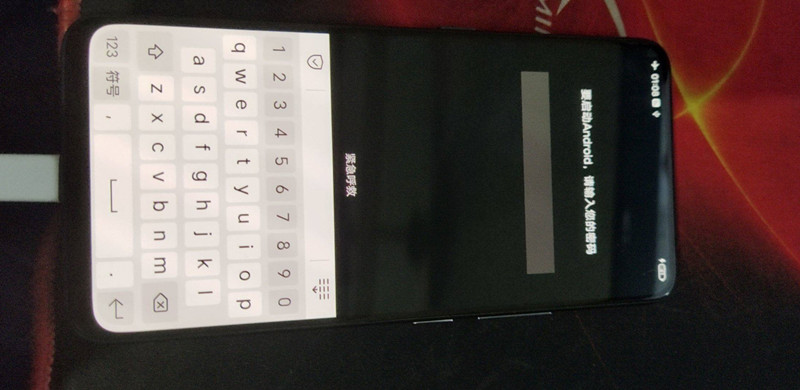 TIPS: If phone can not turn on after factory reset for vivo latest version (6.x/8.x), go to recovery mode and then do wipe data and cache operation please.
EMT Official Forum
This is our official english forum. We recommend that all users lear EMT here, because our after-sales will answer all users questions here, and you can learn more about products here.
Problem not solved?
If the support page does not find the answer to your question. If you want to share your success stories on the support page, please do not hesitate to contact us, This will help you and other users to use EMT more effectively.
Popular tags
#Introductory knowledge
#Advanced knowledge
#Authorized Recharge
#Account
#Screenlock
#Userdata
#Partition
#Unlock
#Obtain Evidence
#Qualcomm
#MTK
#Android
#Xiaomi
#OPPO
#VIVO
#Installer
#Samsung
#Flash
#Smartisan
#Meitu
#Gionee
#Huawei
#Meizu
#LeEco
#Nubia
#Nokia
#Lenovo
EMT-VIVO X27 (PD1838, 20191201, 9) Factory Reset

EMT-VIVO V17 PRO (PD1931F, 20200601, 10) Factory Reset

EMT-VIVO X27 (PD1838, 20191201, 9) Factory Reset

EMT-VIVO NEX (PD1806, 8.9.43, 10.0) Factory Reset for latest version

EMT-VIVO Y3 (PD1901, 9.0) Factory Reset

EMT-VIVO X23 (PD1809) Reset Screenlocks (Factory Reset)

EMT-VIVO X27 PRO (PD1836A) Reset Screenlocks (Factory Reset)

EMT-VIVO Y91(PD1818F) Factory Reset + Reset FRP